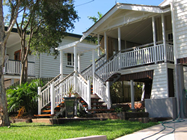 Reinvigorate your home. Need more space? Maximise your property's potential with a home renovation.
Over the past ten years we have added entertainment areas, decks, bedrooms and multipurpose rooms to homes. We provide our clients with improved lifestyle, far beyond just adding additional space.
A renovation, building facelift or addition can often meet the overall needs of a growing family without the hassle of moving.
Our programming techniques often allow us to undertake renovation work whilst you remain living in your home, saving you both money and inconvenience. Our extensive experience with home renovations and extension allows us to manage the process to minimise the disruption to your family.
Thinking of raising your home to perhaps double your living area?
Why not talk to us about your home renovation.